We invest in our employees with training and mentoring and reward them with excellent compensation and benefits packages. All employees are given Kaiser Gold Plan Health Insurance with all premiums paid, PTO (vacation and sick time), 6 paid holidays and a 401K plan with 4% company contribution. Our employees receive extra compensation for taking initiatives to complete jobs thoroughly, professionally, and ahead of schedule.
Employee career development is a priority of our core beliefs. Every technical employee receives the benefit of factory training and certifications from partners like PG&E, Mitsubishi, Trane, Bryant, Carrier, Daikin, and leading manufacturers. These trainings are regularly held at our onsite classroom and offsite at manufacturer and other training facilities.
Our business is expanding and we are looking for additional employees to add to our team. We are looking for an Estimator and HVAC Technicians of all levels.
Current Openings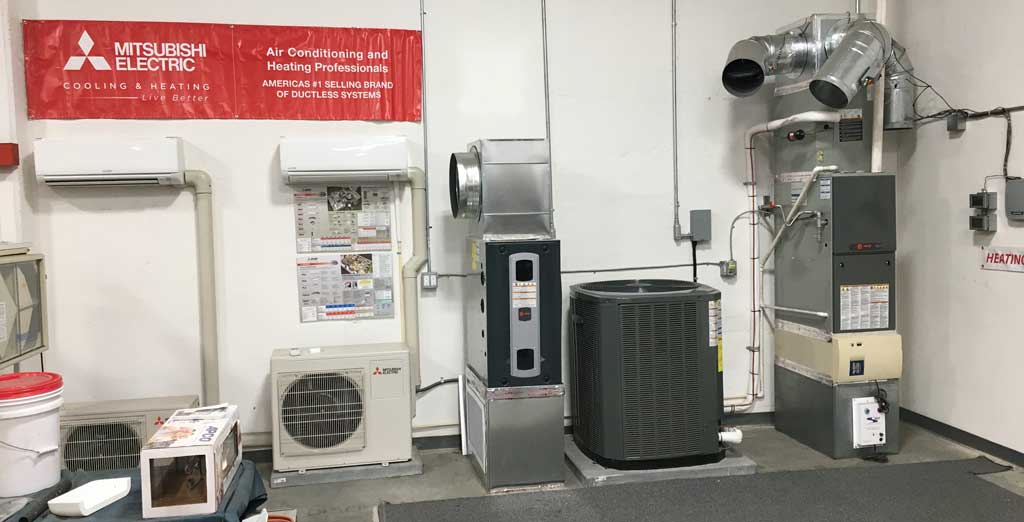 Job Descriptions
Please click on the links below to read more:
---
Experienced Installers & Service Technicians
Make A Difference!
We offer a working environment with caring management and low turnover that attests to our family-oriented work environment.
Work Hours: We will work with you to set a full-time schedule that will work with your life….4 – 10 hour days or a later start so you can get your kids to school, we can make that work! Most of our employees work 7am to 3:30pm Monday to Friday. What will work for you?
Required Experience:
Solid understanding of and experience with heat pumps, air conditioning, gas and electric furnaces, troubleshooting and installation of residential and light commercial systems
Proficient in HVAC functional design and installation of ductwork systems
Enthusiastic about training and supervising others
Experienced and poised to consult with customers, mediate and provide solutions beneficial to both the customer and the company
Understand and apply all residential and commercial codes"
---
Estimator/Project Manager
We're looking for someone with a proven track record in project management or sales…who might be in a different industry and wants to try their hand at HVAC estimating. If you are currently in the HVAC or general construction industry, we are also interested in you. WE WILL TRAIN YOU! What is most important to us is your integrity and character.
In this role you will estimate and project manage new projects from leads provided by Alternative HVAC Solutions. The training we provide will enable you to understand how we install and service our products and work with our clients; building owners, homeowners, property managers and general contractors. You will:
Be able to provide a systematic approach to the sizing of equipment and designing systems
Learn about energy efficiency and new technologies like Heat-Pumps and Ductless systems from Mitsubishi, Trane and Daikin
Provide estimates for residential and commercial projects that are new construction and retrofits
Provide commercial tenant improvement bidding and project management
Learn to coordinate and project manage installation projects