---
WiFi Thermostats
Today's thermostats include wireless internet accessibility (WiFi) making them capable of much more than just controlling the temperature of your heating and cooling equipment. These "smart" thermostats can diagnose problems, set indoor humidity levels, and display current weather and temperature.
Smart thermostats are like regular thermostats but with additional technology inside that enables them, through an app on your Smartphone, to dynamically adjust the temperature and maintain the comfort level you desire.
HOW IT WORKS
Once the wireless interface is installed by a trained HVAC professional, the indoor units of a modern HVAC system will be discoverable in an APP. Through the APP, you can name the indoor units, create groups and organize them, create heating and cooling schedules and make temperature adjustments on the fly – all from one user-friendly smartphone APP connected through WiFi to your smart thermostat.
If you're thinking about joining the revolution, we've got you covered. Here's everything you need to know to pick out a smart thermostat for your home.
---
Trane
The Trane ComfortLink™ II wireless thermostat is an advanced command center that puts comfort at your fingertips.
Learn More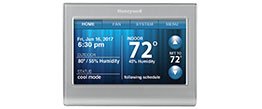 Honeywell
Honeywell's app allows you to program your thermostat from anywhere, whether you're across the room or around the world.
Learn More
Of course, we also service and install traditional wired and programmable thermostats.
---
Our services include design, installation, maintenance, and service and our goal is 100% satisfaction 100% of the time. For 45+ years we have provided heating and air conditioning to our loyal customers in Menlo Park, Redwood City, Los Altos, Belmont, Atherton, San Carlos, Palo Alto, San Mateo, Redwood Shores, Foster City, Burlingame, Portola Valley, Half Moon Bay and surrounding cities.
Call us today at 650-322-4328 or click here for an estimate!