---
Upstairs, Downstairs: Conditioning Multiple Rooms with Home Zoning
Finding a home that requires the same amount of cooling and heating throughout is a challenge. In fact, it's probably impossible. Basements, attics, first floors, second floors, fronts, backs – all have unique needs based on the home's size, windows, facings, insulation, doors and even the home's position towards the sun. In the past, it has been difficult to mitigate these differences. Homeowners were simply forced to accept the fact that some areas of the house would be comfortable, while others would not.
Total Home Comfort Can Be a Reality
When the only option for modern cooling and heating was a ducted central HVAC system, the reality of the uncomfortable home was normal. In recent years, however, there have been significant advances in cooling and heating, including zoning.
A zoned home is divided into segments based on each area's need for conditioning. Rather than relying on a single unit to cool or heat the entire property, multi-zoned homes utilize a network of small, energy-efficient units and thermostats to send the right amount of conditioned air to each zone. This allows homeowners to have room-by-room control.
Homes that can benefit from zoned systems include:
Homes with two or more stories
Homes with finished, livable basements
Rooms that get blocked off in the winter or summer because of comfort issues
Rooms with large windows or high ceilings
Large families that often find themselves battling over the thermostat
Older, historic homes in which traditional ductwork is implausible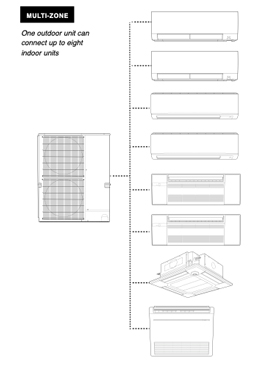 Zoning Provides Room-by-Room Comfort Customization
The number of zones a home can benefit from will depend on its size and layout. In some cases, a single zone can cool or heat an entire floor. In others, a multi-room system would be used to divide the home up into several temperature control zones. The greatest benefit of zoning is the level of customization that can be achieved. You can cool and heat only the zones in use, which not only improves personal comfort but reduces overall energy consumption and costs.
While ducted HVAC systems can be "zoned", they never quite achieve the same level of customization and precise control that is possible with a ductless system. When every segment of the house is manageable by its own unit, it means that every room of the home and every family member in the home can achieve total comfort, no matter what time of day or time of year.