Mitsubishi's Kumo Cloud
Mitsubishi's Kumo Cloud is part of the intelligence behind the system. With a patent-pending algorithm, Kumo Cloud automatically switches the system from heating mode to cooling mode and back to provide perfect year-round comfort. Kumo Cloud gives you control from any smartphone, tablet or web browser. Homeowners can control an entire Diamond Comfort System through the user interface on a smartphone or tablet.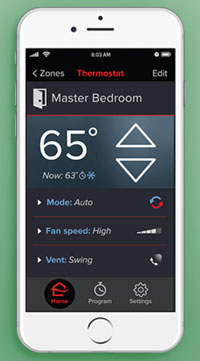 On your smartphone or tablet, the Kumo Cloud app enables you to effortlessly control temperatures, adjust fan speeds, set modes and custom schedules, check the status and much more from anywhere.
You will never have to manually check a filter again. Kumo Cloud can tell you the status of any filter in your system at any time. Kumo Cloud will alert you of any system notifications and the location of the notification. You can connect your Kumo Cloud to Google Assistant and Amazon Alexa and control your system using voice commands. You can also expand your heating and cooling system with IFTTT Applet integration to control your system using voice commands. This integration allows you to control transfer fans, lighting and much more.
SMART CONTROLLERS
The MHK 1 wireless remote control kit is easy to operate with a traditional user interface. It can be mounted on any wall because there is no need to pull a wire toward hard-to-reach locations. You can set custom schedules so that rooms in your home or business are already at your preferred temperature at the time you choose.